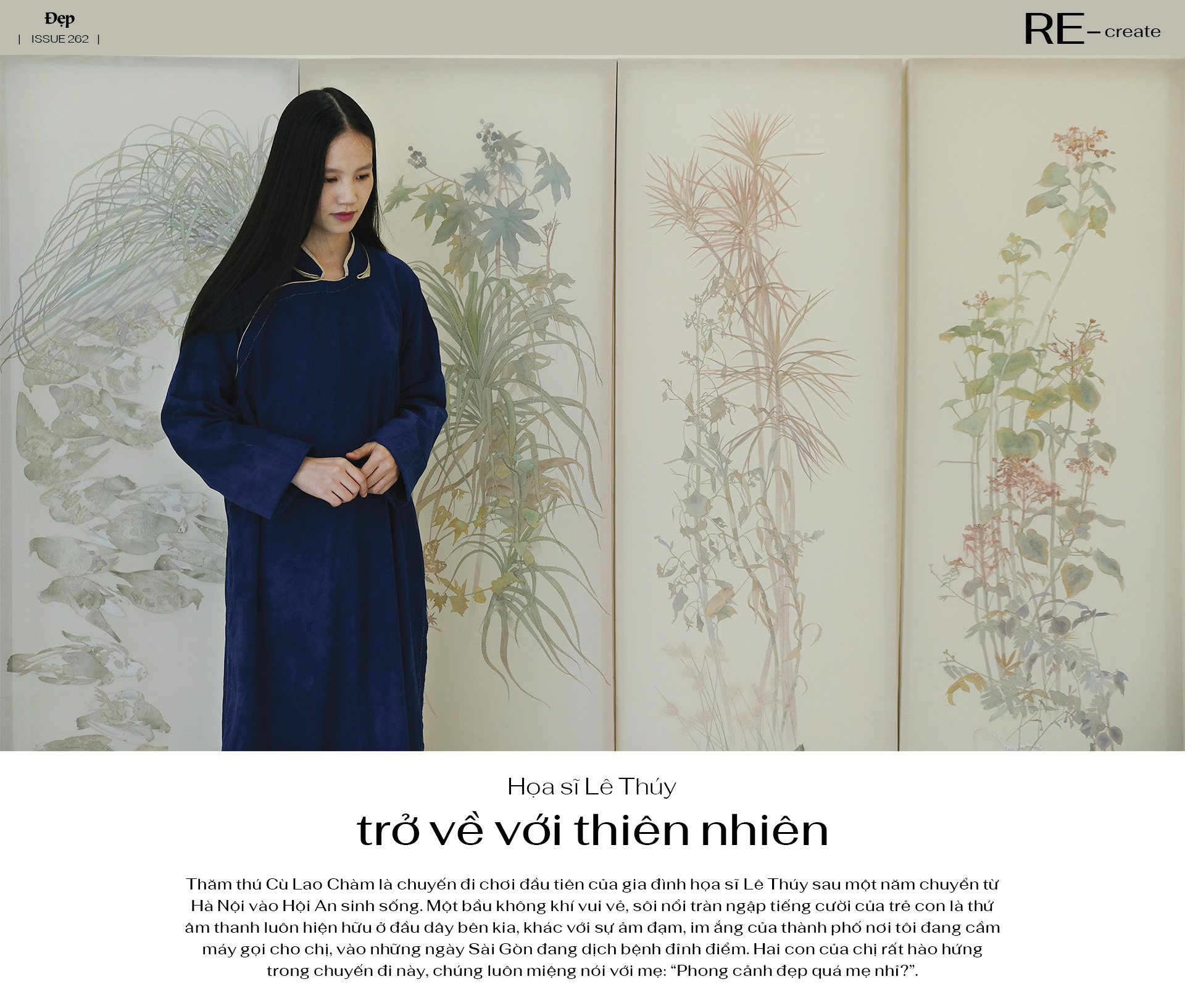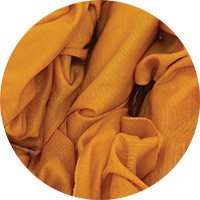 Visiting Cu Lao Cham is the first outing of painter Le Thuy's family after a year of moving from Hanoi to Hoi An. A joyful, vibrant atmosphere filled with children's laughter is a sound that is always present on the other end of the line, different from the gloom and silence of the city where I am calling her on the phone, on the weekends when Saigon is at the peak of the epidemic. Her two children are very excited about this trip, they always say to their mother: "The scenery is so beautiful, isn't it?"
How old is your child that she knows how to say such a "mature" topic like that?
The older one is 3 and a half years old, and the younger one is almost 2 years old. Although the two of them are probably just copying their parents, I am very happy to hear you say this. My children have been at home for a year, so they are excited but also curious to see anything. They were also born during the epidemic season, especially her friend who was born at the time of social distancing happening across the country last year. Then my whole family moved to Hoi An. This is also their first time going out.
Surely this season Cu Lao Cham is very beautiful, especially when there are few tourists…
Besides this, I also have a friend who is a watercolour painter, he paints very well. Today we went sightseeing around with our friends and watched the old women weave hammocks from the trunks of the field corn. Nature in Cu Lao Cham is very wild, from trees, corals, even the sky is also different. Morning to evening are three different colours of the sky, from yellowish blue, blue to dark sunset, all of which give me very happy experiences. Oh, and the food his mother cooks is so delicious that my whole family loves it. I also prepared some wild vegetables and fish sauce to bring back after this trip.
Moving from Hanoi to Hoi An is it because you want to be closer to nature?
I was born and raised in Thanh Hoa. Since childhood, I have been immersed in nature. When I was a child, I often followed my parents to the fields. When they worked, I went out to play with plants. Memories of a childhood in the countryside leave me feeling very peaceful. Later, because of my academic career and the desire to assert myself, the affirmations continued one after another, until a time came when I felt that I was too far from nature. When I was still in Hanoi, sometimes I still lamented: "It's been a while since I've been home", or "It's been a while since I last went anywhere", with a kind of desire. But you know, only I am moving, and nature is still there, why do I have to wish, wish as if it were so far away. So I moved back to Hoi An, and the past year has been a very happy and harmonious year.
Hoi An is a small city with few inhabitants, an old town, and fragrant rice fields. Nature, trees, waves, wind, sea, sun… all are just like life when I was a kid. I feel like I am reliving a part of my childhood, and I want my children to have the same experience as my mother. It's one of the nice things I want to do for my kids.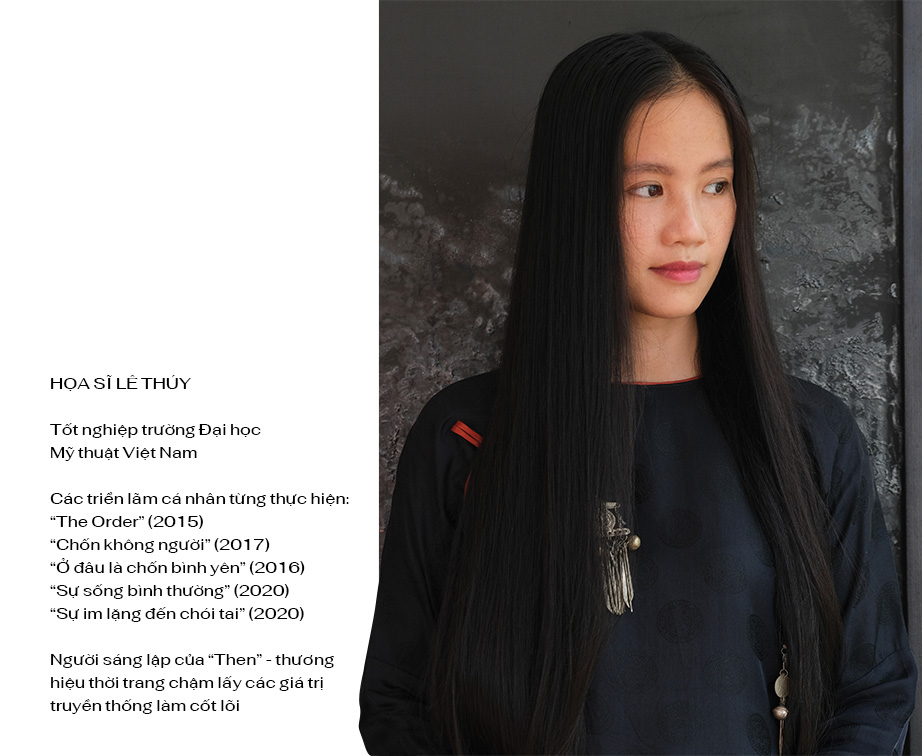 Did you spend a lot of time convincing your husband?
He likes it and wants so much more. My husband works in tourism, when we are yet to have children, my husband and I sometimes go here and there for a few days, experience interesting things different from the life we ​​are used to and discover ourselves in new lands. But maybe because of the Vietnamese nature (or is it because of my personality), so after only a few days of going, I quickly want to return.
Back to this story, Hoi An is a place we used to visit. A few years ago, my husband asked me to move here, but because of work and taking care of my children (at that time, my two children were still young, so I could not decide right away) that we temporarily put it on hold.
Until now, when sitting in the middle of the beautiful Cu Lao Cham, is there anything you are not used to with your new life?
Although I miss a few friends that I love and cherish, miss the feeling of going to an exhibition or meeting colleagues, but now I am living a very happy life. My child can run and jump barefoot in the garden. My work as a painter does not require many amenities, and I am in a quiet space with trees, so I am very happy with my decision.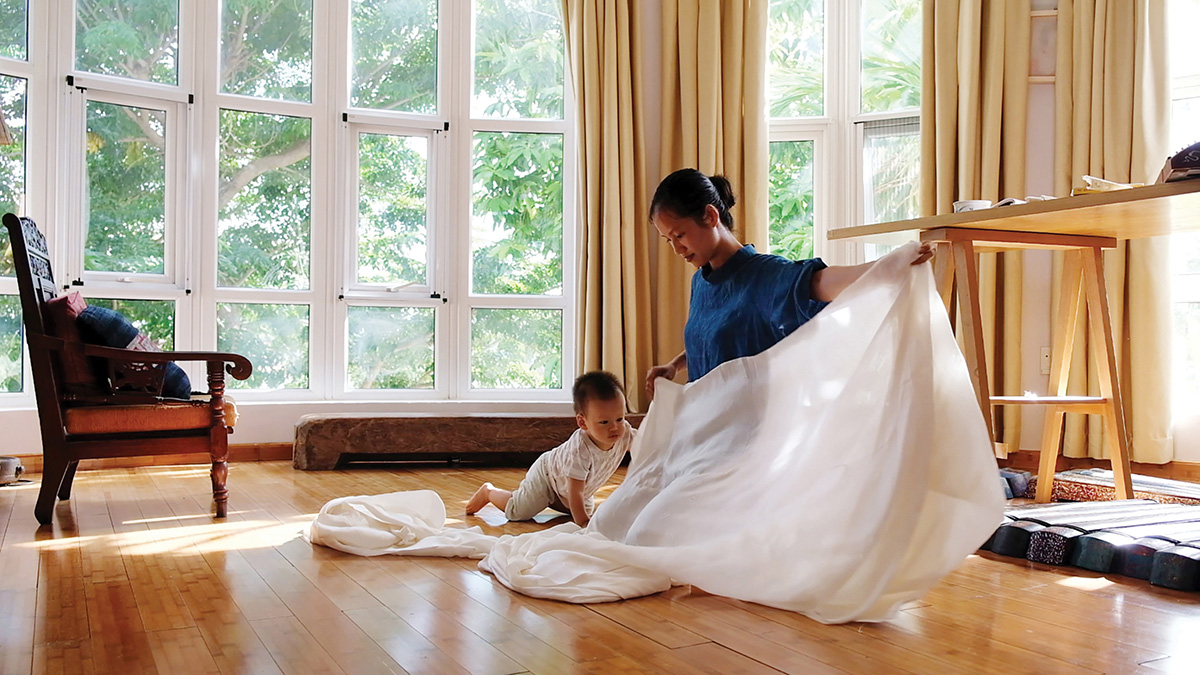 What will your peaceful day look like?
I usually get up to do yoga at 6 am, make breakfast for the whole family. After doing some housework, my husband and I sit down for a bit of coffee in the garden. At 9 a.m., I paint and dye fabrics and the two children play with their grandmother. At noon, I have about 3 hours to prepare food and rest. I can work part-time after that and at 4 p.m. the whole family will go to the beach or go for a walk in the fields. At 7 pm, after finishing the meal, the whole family played together until 8:30 pm, the two children went to bed and I had a short time to myself. So end the day and repeat.
It sounds as peaceful as if there was no sign of the epidemic, right?
My life has not been affected by the epidemic much, because whether there is an epidemic or not, I still paint and dye fabrics. Instead of opening an exhibition, my works are still introduced to viewers online. Maybe it's temporarily no longer experience tours. In return, I can live and feel more fulfilled with where I live.
Are you completely unaffected by the negative things that surround you?
Oh yes. The waves of struggle in me often take place from within my thoughts, from the wish for a good life, and the reality is happening every day. Sometimes these things make me uncomfortable, frustrated. Sometimes at the peak, that wave invaded all my thoughts, I could not give myself an empty space, and could not carry out my thoughts and creations.
At those times, I often take a break from work, and put negative thoughts aside to spend time playing with my children, cooking, going to the beach… I enjoy a full day without work to do what I like and sleep deeply. The next morning, when starting a new day, it is always a new feeling and belief that everything will have a solution.


The color that you used to dye the fabric brings a dreamy, loving and peaceful feeling. When did you start dyeing fabrics?
When I was a child, I often saw my mother putting achiote in sticky rice, meat with wine sauce, fish soup, and this achiote turned the food color into red and orange beautifully, but the good smell was still there. Last Lunar New Year, I started dyeing fabrics. I was trying all kinds of colors, which were from sticklac, mud, areca nut, and achiote, but dyeing with achiote was unusual. I tried again and again to get the color that I expected and it turned out that the fabric had a red color that looked like the achiote seeds. Until I got the seeds cooked and dyed with silk several dozen water and it was only giving out the tones from light orange yellow to dark orange yellow. However the achiote-dyed fabric still has a mild scent of the seeds.
My child likes to wear it, and said with a slurred mouth that the shirt had "g guýt"color (mandarin). I am glad that my son put on the shirt that I dyed with all my love.
Is there any inspiration in your dyeing process?
I am inspired by purely traditional Vietnamese local ingredients such as areca nut, leaves, and mud. etc. Because each ingredient has a different process to be handled, some ingredients that I need to soak in alcohol, but some need to be dried, cold brewed or cooked. It depends on its own nature. The dyeing process is very laborious, it took me to dye and redye the cloth many times, 12 times at least and 25-30 times more. I always use natural fabrics that are easy to color such as silk, lotus silk, Tussah silk, linen, cotton, etc. This process of dyeing and observing how the color is absorbed into the fabric gives me a lot of experience that can be applied when drawing.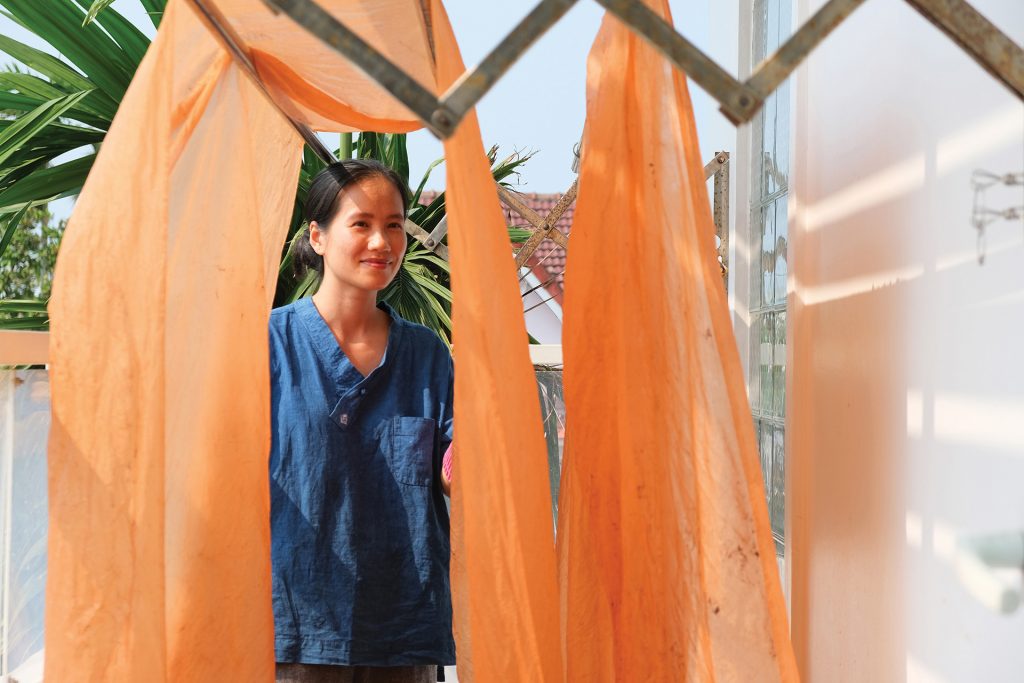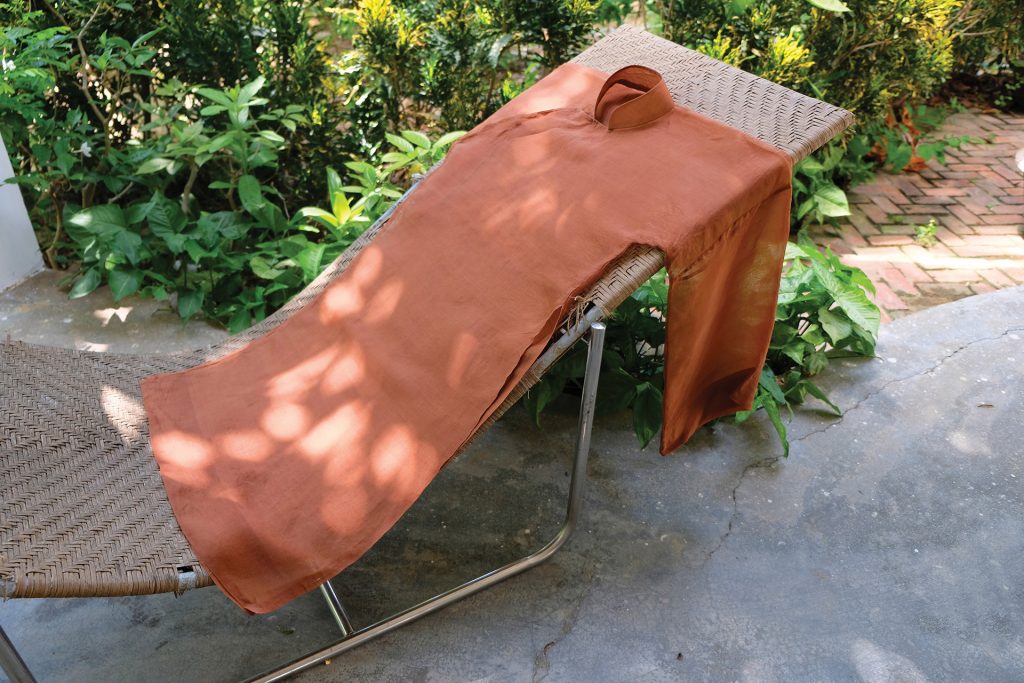 Organza Bao Loc silk dyed in brown tuber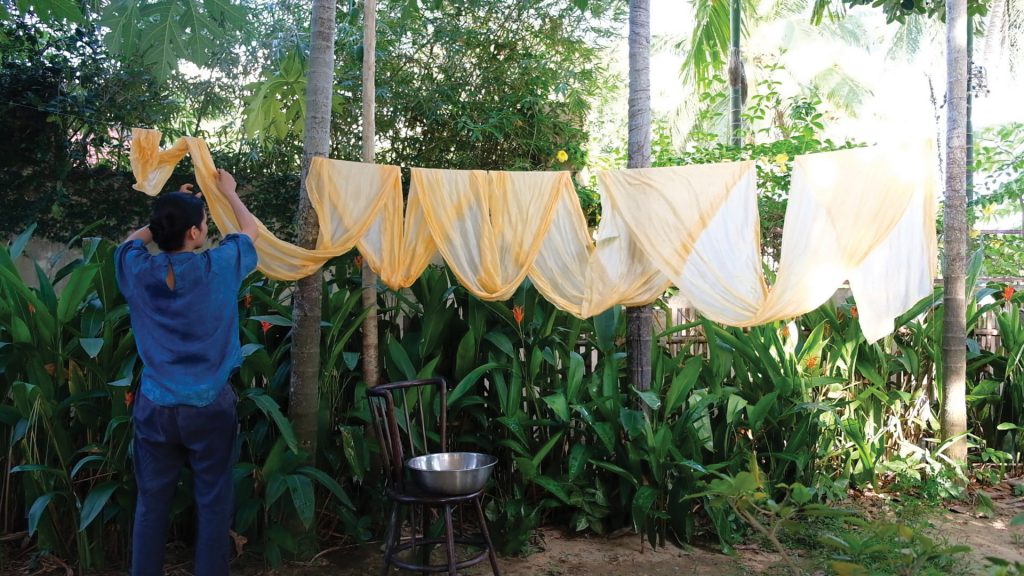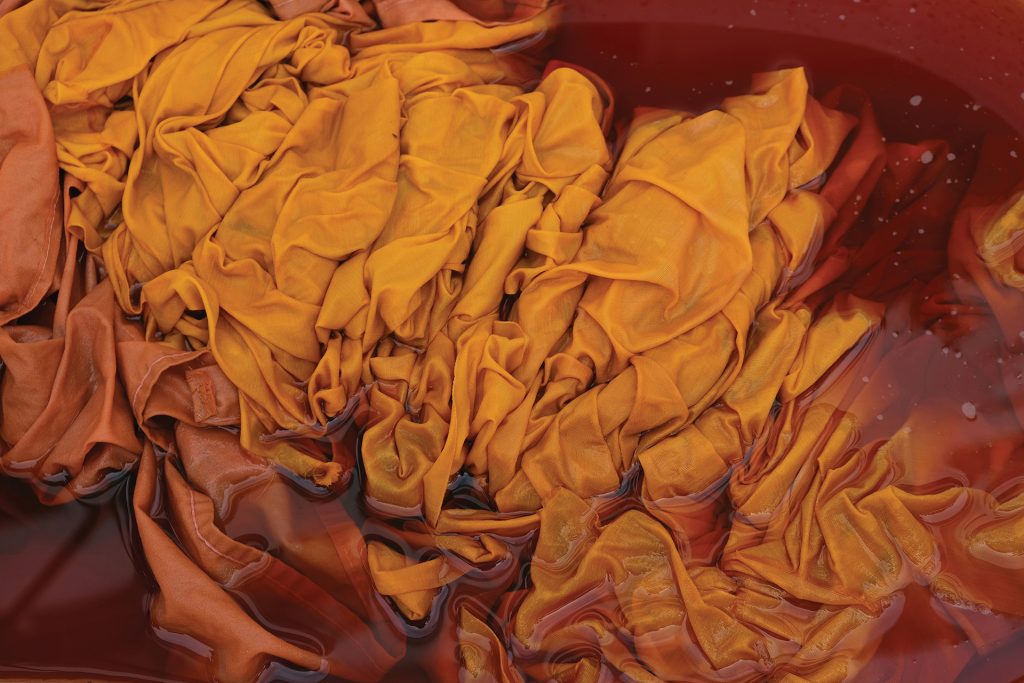 Dying pink tone by cotton & linen material
What color tone has bothered you the most?
It is black color. To use this color, I have to dye the silk with brown color from areca nuts first about 15 times to get a light brown color, followed by dying with coffee beans 5 times more to get a dark brown color, then soaked the silk in the mud for a deep jet black color. This is a method from how the people on the island of Amami Oshima (Japan) created the famous black color from the sharinbai tree and mud. And by watching the transition of shades from brown to jet black gives me an indescribable feeling of joy. After learning about dyeing, I always get inspiration from seasonal colors or special occasions.
For instance…,
Red tones for Tet, orange tones for summer. Or recently, I enjoy watching the sunset on a summer afternoon because I love the shades of yellow or red colors tinged all the surrounding scenery. A magnificent sight lasts only a short time, before the sun extinguishes its last rays. I was picturing in my mind that if I could wear a dress pigmented in this peaceful summer scenery and enjoy the splendor of the beauty of nature. Because of that, I started to learn how to create this color tone.
Which outfit do you love the most?
It is a wedding Ao Dai that I sewed for myself because it reflects the spirit of Then. When I came up with the idea, I immediately had a thought of Bao Loc's organza silk, it's soft, clear and very tough so it doesn't get pushed or split. Unlike other types of silk that often feel silky and difficult to hold, organza brings a strong, tangerine feeling when moving. Combined with the inner layer of Nha Xa silk, my wedding Ao Dai was inspired by the Ao Dai of the Nguyen Dynasty. I didn't know much about the beauty of silk back then, but when I learned about the weaving and dyeing process, I understood that in exchange for this perfection it takes a lot of hard-work, so I appreciate this Ao Dai even more.
Áo dài cưới Thúy tự may từ tơ organza Bảo Lộc và lụa Nha Xá
Listening to you talk about silk like a naughty and hard to hold girl?
Silk and women are both beautiful and difficult to please with (laughs). Sustaining the clothes and silk paintings is a feat. Soft silk material is woven from tightly knit  silk from many silkworm cocoons, just like a woman's character, soft but still harsh when needed.
When you are stuck and run out of ideas, where do you usually look for inspiration?
For me, inspiration comes from a photograph, sometimes a temple roof, or a door in the Hue Imperial Citadel, when stormy winds blow over the river and the field, lotus flowers wither at the end of the season in a pond, even the dried skeleton of an animal also evokes what happened at the last minute, the wildflowers on the field, the whispers that tell the story of the children… Every single thing gives me the feeling to tell the story through art or fashion.
The stage you like most when dyeing is watching the transformation of colors. So what about when painting silk?
There are two stages, first when sketching a picture, it felt like I was creating a world of my own.
The second is when stretching the silk on the frame. When a white and well-flat silk is erected on the wall, in that quiet space, I feel like I am examining myself, and brainstorming my next art works.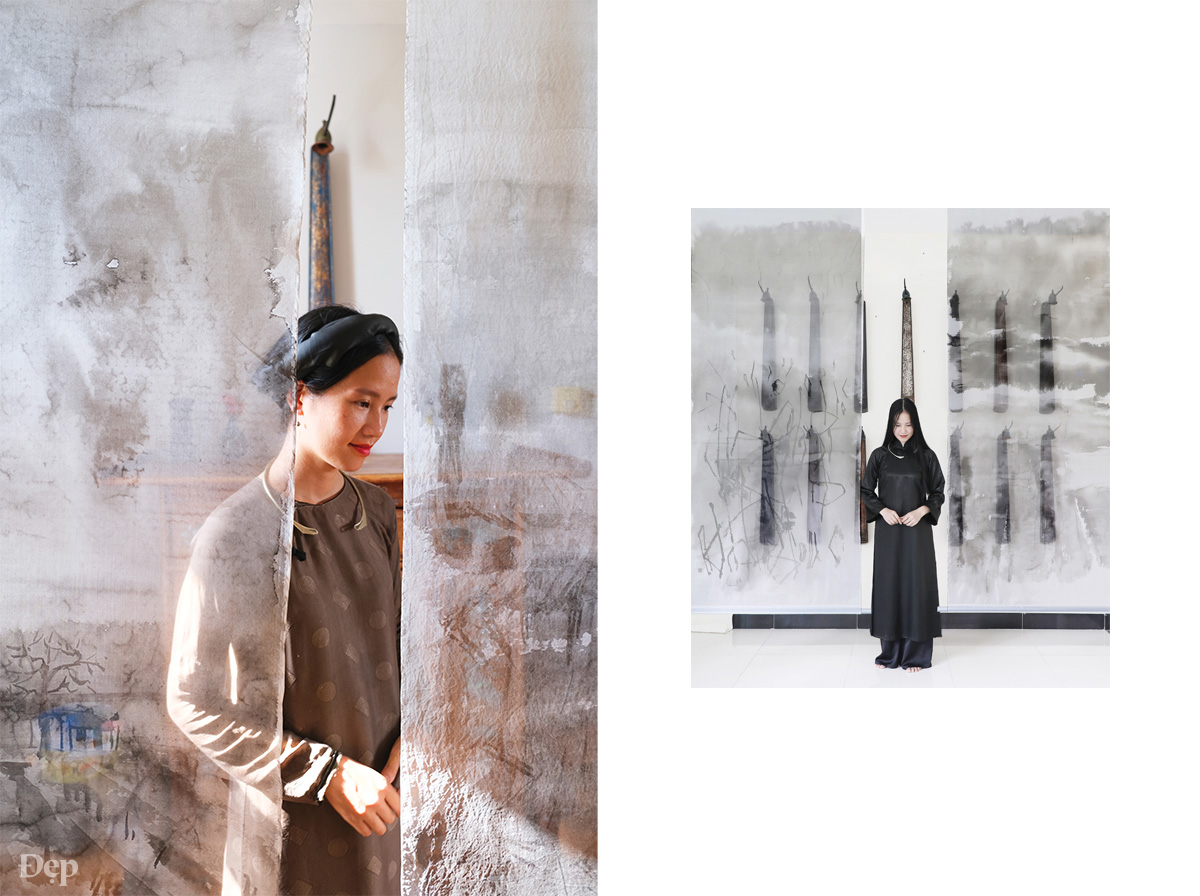 Your silk paintings often depict the interplay between space and humans, about life and death. In those places, what are people stuck in?
They are stuck in the midst of their fast-paced lives. At the most, people should slow down their lives, to observe the rhythms of life. Open to think, people can consume less energy, reduce destruction, and know what they want and need in life. Use only when you have enough and want when you need it, don't overdo it. Therefore, when we close the door, the beauty of nature is as beautiful as it used to be, then the human mindset will also change and think about nature more. And, this is a message that I want to deliver in my paintings.
Source: Tạp Chí Đẹp