Young Thai artist says that while artificial intelligence will augment the creation of art, it will never replace the human touch.
Below Napaphol Uruchada and his first solo exhibition 'CyberSoul'. (Photos: Pornprom Satrabhaya)
The large role technology plays in society is reflected in the number of gadgets people are dependent on. In the art industry, not only is technology used as a tool for artistic creation, it also triggers inspiration.
For his first gallery exhibition "CyberSoul", Napaphol Uruchada, better known as BestBetter, created 11 paintings inspired by technology and the cyberworld.
"Due to technology, artists can create art in various forms. In the past, we painted on canvas or created printmaking or sculptures. Currently, we can create 3D artwork or paintings with computers or tablets. Technology has given artists the means to create their work more conveniently. I also use a camera to take photos of city landscapes and develop them into sketches on a computer before using a paint brush to create a physical painting. 'CyberSoul' illustrates that advanced technology has become a vital part in our lives. I cannot spend a day without a computer and mobile phone, even on weekends because I use them for my entertainment as well," said Napaphol.
"CyberSoul" is Napaphol's first solo exhibition, so he decided to showcase his works from his days as a third-year undergraduate student at the Faculty of Fine and Applied Art, Chulalongkorn University, in 2015 to the time after he graduated from the Faculty of Visual Art at King Mongkut's Institute of Technology Ladkrabang with a master's degree.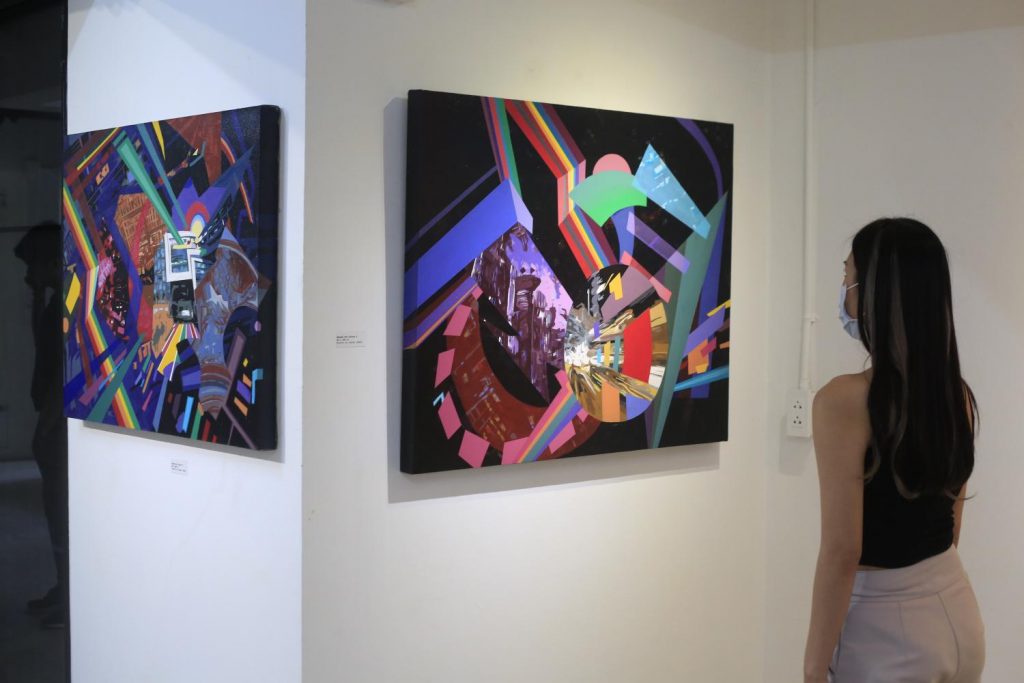 Beyond The Future 3, left, and Beyond The Future 2.
Growing up in the capital city, Napaphol always found the movement of light in Bangkok to be fascinating. His paintings in 2015, The City No 2 and The City No 3 were inspired by Bangkok's landscapes that were part of his daily routes from home to the university.
"I was interested in movement of light in the city because this movement made Bangkok appear to be like a city that doesn't sleep. I took photos of places that I passed and rearranged compositions in photos by using Photoshop before developing them into physical paintings. One of the artworks in this collection depicted every place that I interacted with from my house to Siam Square to Chula," he said.
A year after the city collection, Napaphol became more interested in abstract composition and rearrangement. He was a trainee with an artist who advised him about composition. He also viewed more abstract artworks and learned various styles from different artists.
"My first collection has some realistic composition, but in 2016, I wanted to try something new. Hence, the 2016 paintings Beyond The Future 1-4 are in abstract and geometrical forms. I did not have to draw a building to look like the original. I sometimes used a shadow or reflection of a building and rearranged its composition to become something different. I still went out to take photos of buildings, but had to search for more photos on the internet because I wanted to use bird's-eye view perspective photos that feature sharp lines and intriguing angles. I enjoy creating abstract painting. I feel that to create an abstract painting does not require fixed methods. An abstract composition will never repeat the previous ones, so I can create a new painting endlessly," said the artist.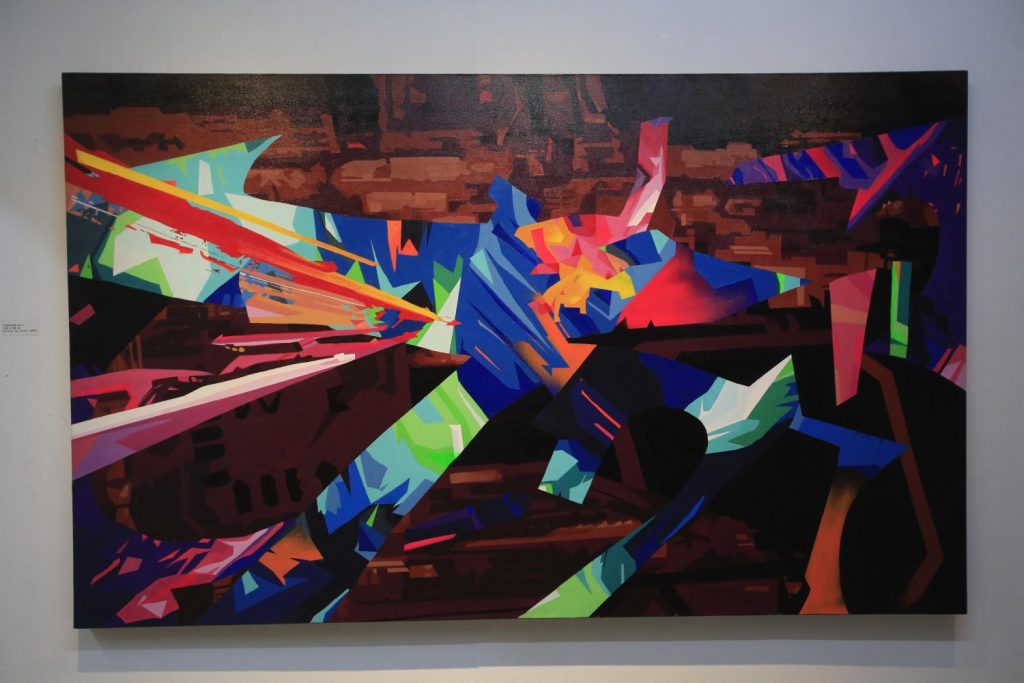 As a young artist, Napaphol always experimented with new things and was open to new ideas. In 2018, his instructor suggested he reduce details in his works. As a result, his works, Limitless No 1-4 had less details than Beyond The Future. Cyberspace, Into The Cyber World and The Shade Of Cyber are three new paintings that he specifically created for this exhibition. These three paintings look like 3D artworks.
"Cyberspace, Into The Cyber World and The Shade Of Cyber were created based on a square format, which was inspired by pixels on the display of electronic devices such as computers and mobile phones. It also represents an angle of a building. I intended to add a perspective of sculpture into the paintings, so they have layers and depths. To make the exhibition more interesting, a video displays my paintings, but I used a projector to create light, shadow and movement on the paintings," explained Napaphol.
Even though Napaphol is a technophile, he prefers to create physical paintings to digital art.
"When I create an artwork, I would like to interact with it physically. It is similar to when I buy a model, I prefer to buy a model kit that I can build myself rather than a finished product. Thus, I want to choose colours and use the brush paint to create the physical artwork rather than to see it from a computer screen," said Napaphol.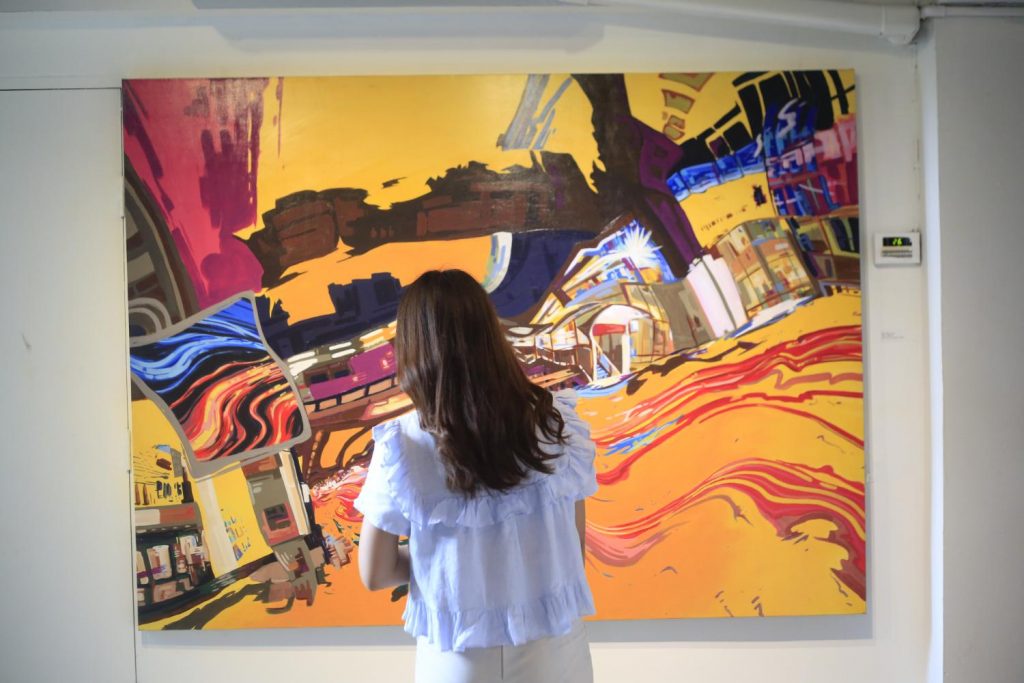 The City No.3 was inspired by Bangkok's landscapes
In today's digital age, some AI are programmed to create art. Is it possible that AI will replace artists in the future?
"I do not think so. AI can paint because people input data into it. AI will not figure out by itself how to draw something. Especially since abstract art comes from movements of our minds, only humans can create it. I do not think we will reach an era that AI can create art itself. Humans designed AI, so we are able to control it," said Napaphol.
"CyberSoul" runs at Kalwit Studio & Gallery, Ruamrudee 2, Phloenchit Road, until Aug 8. Due to the Covid-19 situation, the exhibition can be viewed online at Facebook of Kalwit Studio & Gallery and tinyurl.com/wtde3mxj.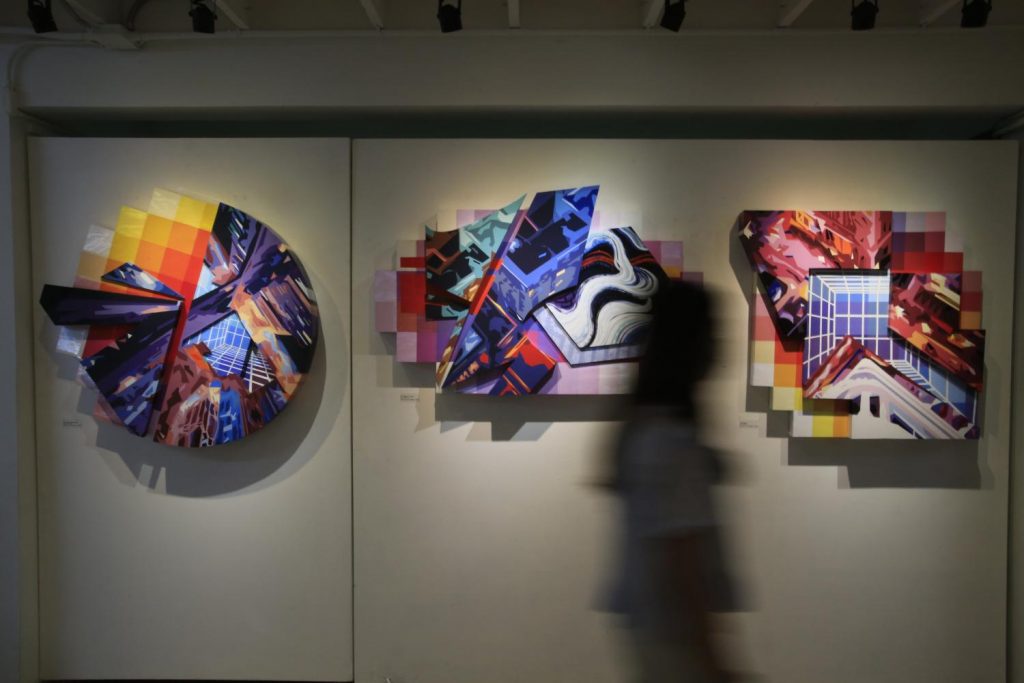 Three new painting Into The Cyber World, The Shade of Cyber and Cyberspace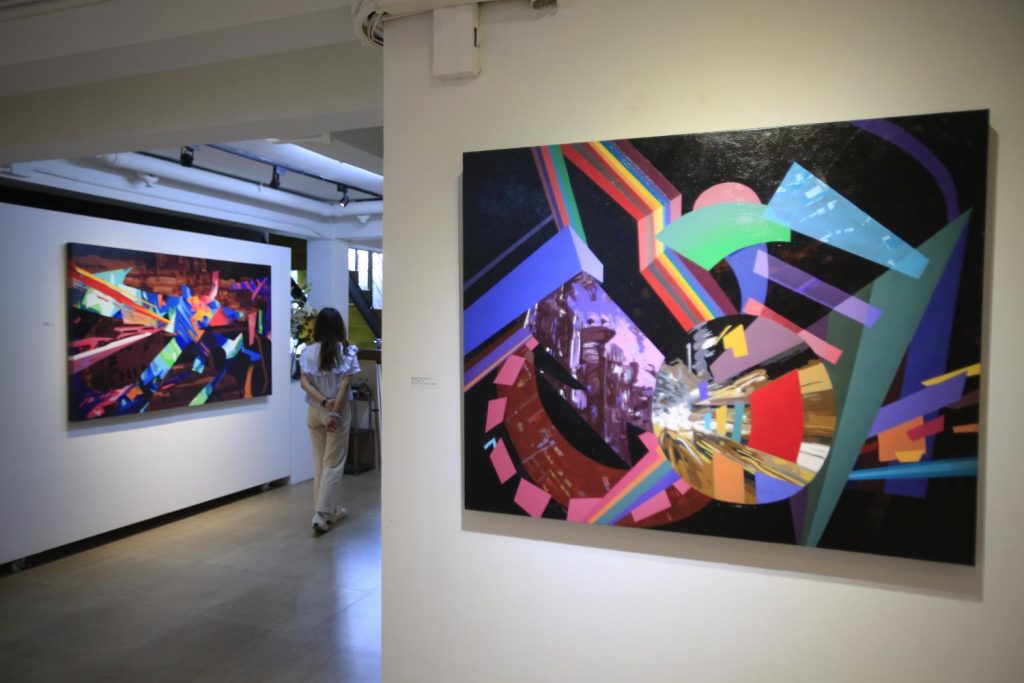 Limitless No.3 and Beyond The Future 2 
Source Bangkok Post