Recently, the works of "Vietnam Tam Kiet" – Le Pho, Mai Trung Thu, Vu Cao Dam, famous artist Nguyen Gia Tri, Nguyen Phan Chanh and artist Nguyen Trung were introduced to friends around the world at the art gallery LGDR & Wei (Hong Kong).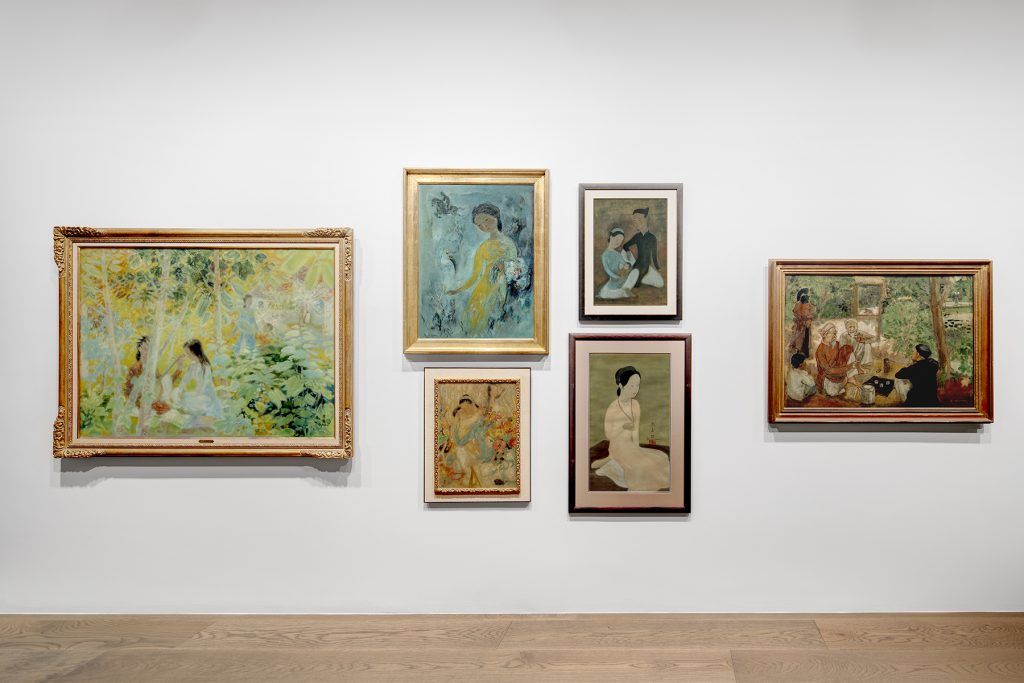 LGDR & Wei Gallery exhibited works by Vietnamese famous artists from January 18 to March 10. In addition, the event also included prominent names of Singaporean art, thereby creating a common theme: Scenes of This World: Modern Paintings from Singapore and Vietnam. At the exhibition, visitors walk through the artistic landscape of Southeast Asia in the 20th century with features associated with the history and times of our country and Singapore.
This is a rare opportunity for paintings by big names in Vietnam to gather in one exhibition. Curator Karin G. Oen commented: "The paintings of Vietnamese artists carry a complex and profound sentiment with the national identity. Painting is like a concern about people in the context of a country with many changes." This is inevitable in a time when the country has many interferences, and artists make efforts to both preserve traditional elements and acquire new things from Western. In 1937, Le Pho, Mai Trung Thu, Vu Cao Dam went to Paris to immerse themselves in the global vast art world. Being called "Vietnam Tam Kiet" by the Western art world, the artists have adorned the "School of Paris" with a touch of beautiful Southeast Asian colors.
Femme au rideaux (1940) | Lê Phổ
For example, the work of Le Pho presented the combination of French and Vietnamese painting techniques. He used silk oil paint to paint on Masonite in works of women and children. In the 1930s and early 1940s, his paintings showed some influences from Belgian, Italian and Dutch renaissance paintings, such as the Femme au rideaux (1940). The portrait was inspired by Mannerism, with the subject being the ideal woman amid the red veil. Materinité au Bouquet is the exemplary work of Le Pho after settling in France. At that time, he developed a new style that combined Impressionist and Romantic features.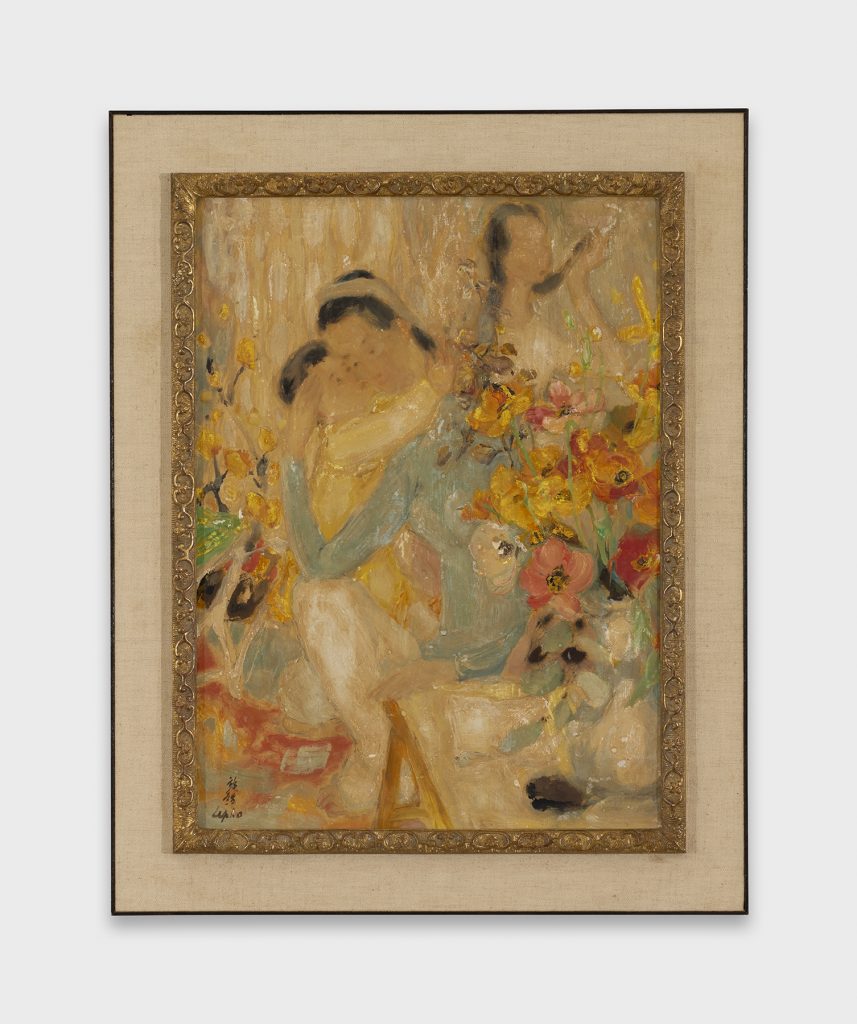 Materinité au bouquet (1950- 1960) | Lê Phổ
Several other paintings by Le Pho were also on display in this exhibition, including the pale silk painting Les joueuses de cartes (The Card Player) created in 1940 at the Romanet Gallery in Paris. In addition, Musical Moment is also a memorable work, completed in 1975 at Gallery Wally Findley, USA.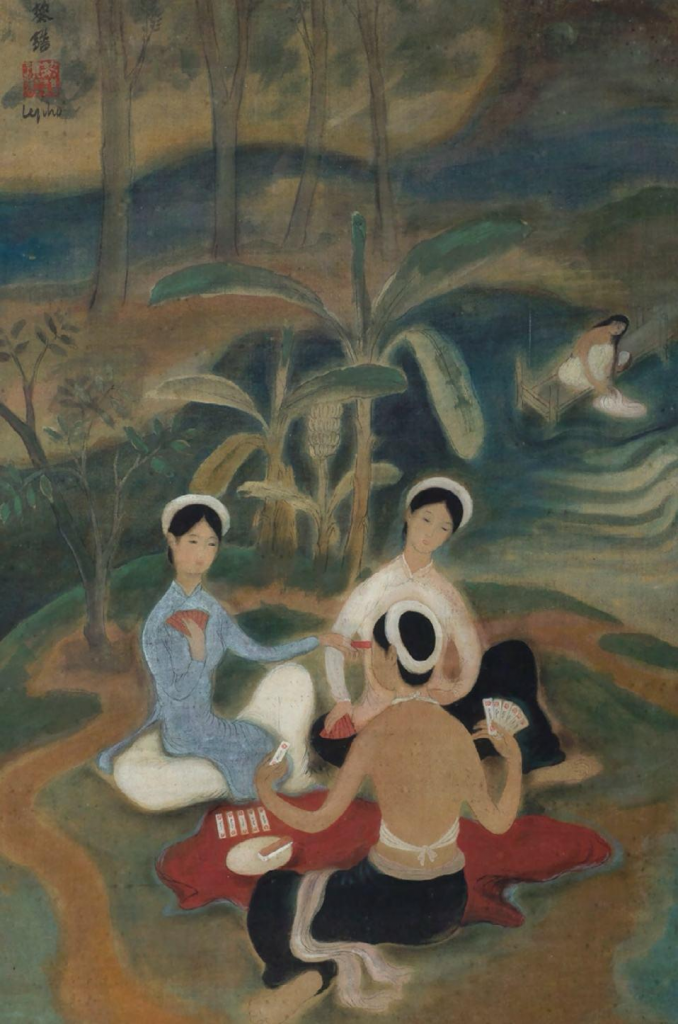 Les joueuses de cartes –  Người chơi bài  (1940) | Lê Phổ
Artist Nguyen Gia Tri is famous for his splendid lacquer paintings. He often places his subjects in the context of detailed architecture and striking landscapes. In this exhibition, a huge lacquer painting called Provincial Village was displayed. The work is very magnificent, both real and shimmering, hidden between layers of paint. The masterpiece was created in 1940 and carefully preserved so that today it had the opportunity to be introduced to the younger generation interested in art.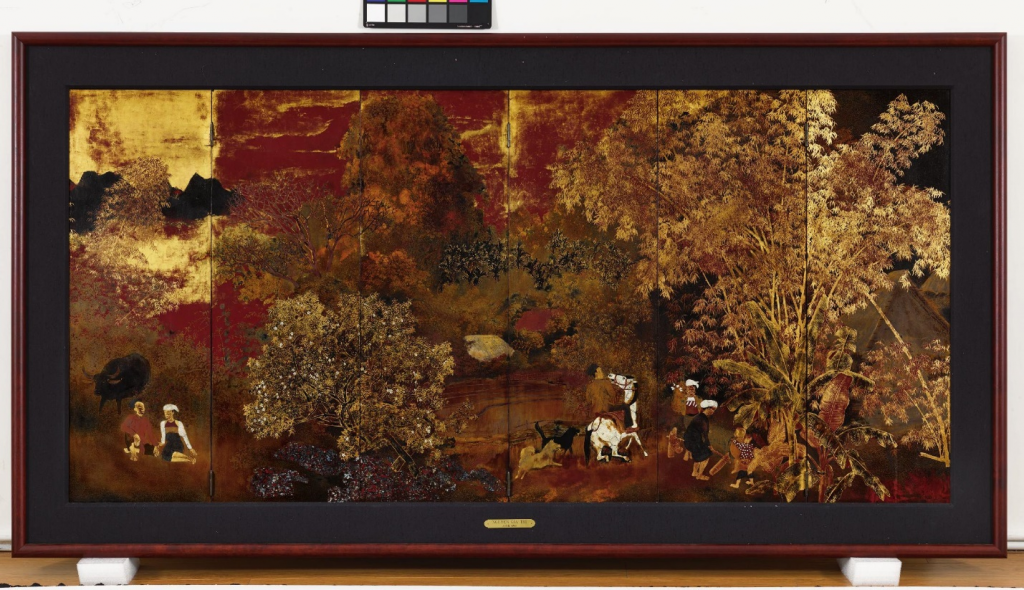 Provincial Village – Phong cảnh điền viên (1940) | Nguyễn Gia Trí
Paintings by Nguyen Trung – a pioneering modern artist of Vietnam – were also present at this exhibition. He was one of the students of the Saigon School of Fine Arts in the early years. The artist freely expressed two themes of figurative and abstract painting and achieved remarkable successes. He is the only living artist among the artists participated, with Flowers, Fruits and Dreams.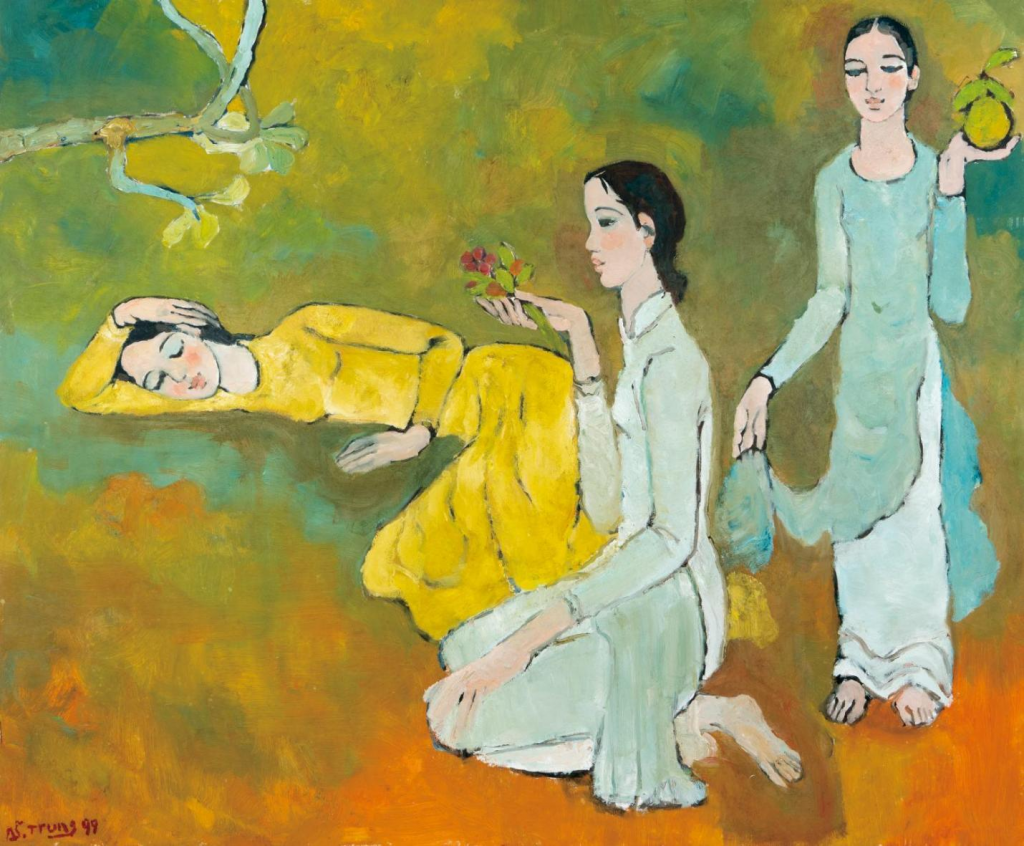 Flower, Fruit and Dream – Hoa, Quả và Ước mơ  (1999) | Nguyễn Trung
On the Singapore side, at this exhibition, the organizers selected works by Chen Wenxi, Zhong Sibin, Liu Kang and Zhang Liying, etc., all excellent representatives of the Nanyang school of painting. This name refers to Singaporean artists who emigrated from China in the 1940s-1950s. Before coming to the country, their talents were honed in Shanghai, Xiamen, New York, Paris and other places in the 1920s and 1930s. Most of the artists had extensive ties to Chinese contemporary art pioneers such as Xu Beihong and Liu Haisu. They have received lots of attention thanks to their strong creative power, leaving many imprints in Singaporean painting in particular and Southeast Asia in general. Among them, Chen Wen Hsi's Balinese Ladies and Cheong Soo Pieng's Two Balinese Girls presented at the exhibition are both rare masterpieces.
Balinese Ladies (Cô gái Bali) (1950s) | Chen Wen Hsi
Balinese Girls – Hai cô gái Bali  (1957) | Cheong Soo Pieng
The gallery selects works from Singapore and Vietnam to affirm the strong artistic vitality of Southeast Asian countries. Currently, Singapore's economy has been developing continuously and the quality of human life has increased, creating more strong demand for the arts. As for Vietnam, there is the interference of French – Chinese culture and resonance with the national character to form a profound artistic heritage. Thanks to that, in the last 5 years, the Vietnamese art market has been very active, with big names regularly at major auctions in Hong Kong, Paris and New York.
LGDR & Wei Gallery is an international professional gallery based in New York, London, Paris and HongKong. Karin G.Oen – PhD in Art Theory and Criticism from Massachusetts Institute of Technology – is in charge of the exhibition. She has more than 20 years of curating experience at the San Francisco Asian Art Museum, the Dallas Asian Art Museum, and more.