In more than nine decades of her life, Yayoi Kusama went through a long way, from a rural Japanese child to one of the most famous contemporary artists. She has been indicating originality, producing art constantly, and successfully creating her world with a unique point of view. The artist has held numerous transcontinental art and installation exhibitions and collaborated with haute couture houses – bringing her artistic vision to a broader audience. In the present, when it comes to Yayoi Kusama, we immediately think of polka dots. For example, black polka dots on a giant yellow pumpkin, white polka dots on a red dress, or, recently, colorful dots on a luxury LV bag.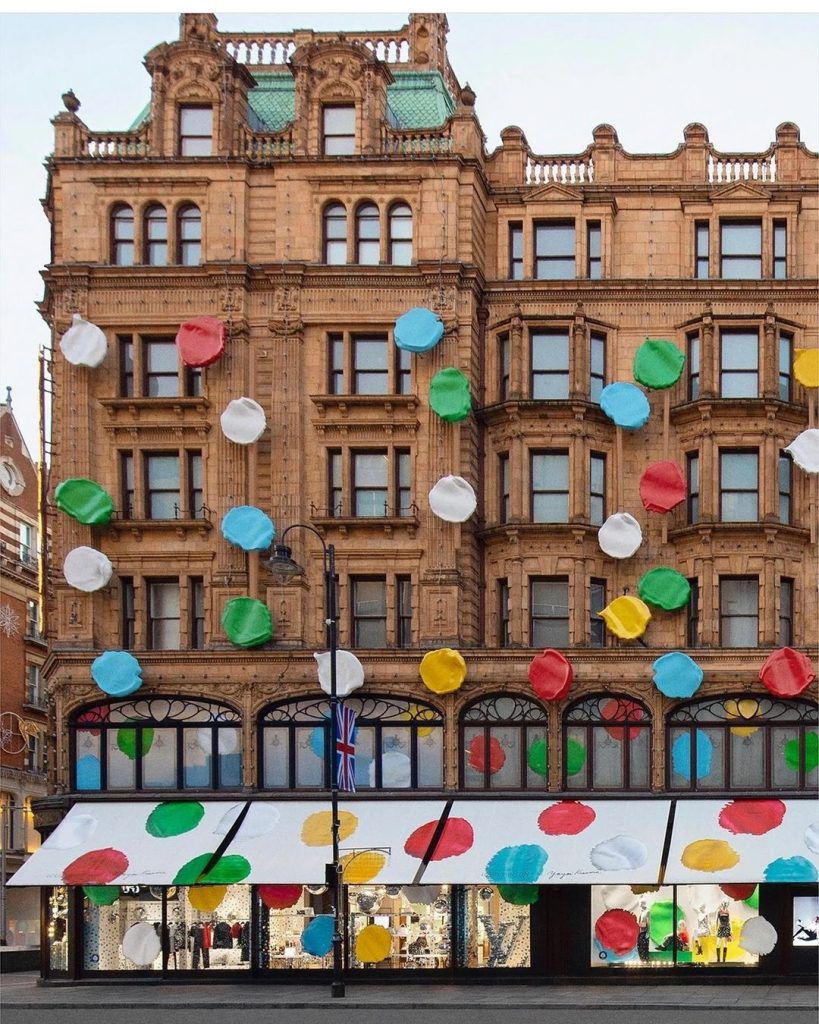 The facade of the Harrods luxury department store (London, England) is decorated with Yayoi Kusama's famous polka dot pattern on the occasion of collaborating with Louis Vuitton in 2023.
From the age of 10 until now, Yayoi Kusama, more than 90 years old, never stops creating. Every day, she devotes all of her efforts, going through many impediments to achieve the creative art she desires. The female artist always approaches art with wonder and curiosity. As she said, " I fight to find love and a mystery of human life."
Yayoi Kusama's installation exhibition, Infinity Mirror Room – Phalli's Field, in 1965.
In the late 1950s, she moved to bustling New York. While it's not easy to integrate into a new culture, she showed a fierce, even maddening attitude: "I would stand up to them all with a single polka dot." In 1959, the artist held her first exhibitions. Then, she interacted with artists like Donald Judd, Andy Warhol, and Joseph Cornell and became their inspiration. Kusama's work has contributed significantly to the Pop Art and minimalism style. She is also one of the artists who successfully experimented with performance art.
The polka dots represent the Japanese female artist's fluctuating, sensitive soul. Yayoi Kusama shares about her childhood. She had a strange hallucinogenic experience. At that moment, Kusama found herself standing in a field of talking flowers. Stacks of flowers looked like dots extending as far as the eyes could see, and she felt like she was disappearing. She "self-obliteration," as she called it, into the field of endless dots. Since then, this strange experience has influenced her art conceptions and most of her works.
Interactive artwork: Obliteration Room, in 2012. 
By turning her paintings, objects, and clothes into artworks of dots, she makes them, and herself, parts of the great universe. The artist unveils a very exclusive philosophy: self-obliteration. "I felt as if I had begun to self-obliterate, to revolve in the infinity of endless time and the absoluteness of space," – Yayoi Kusama once shared. To her, Earth is just a polka dot between millions of stars in the universe, and the polka dots will lead to infinity. As we purify nature and essence with polka dots, we gradually become part of the external environment. When we look at the vast universe, it is also time to look at ourselves and understand the value of our existence. Perhaps, it is Kasama's "unconsciousness" that awakens the sanity in each soul.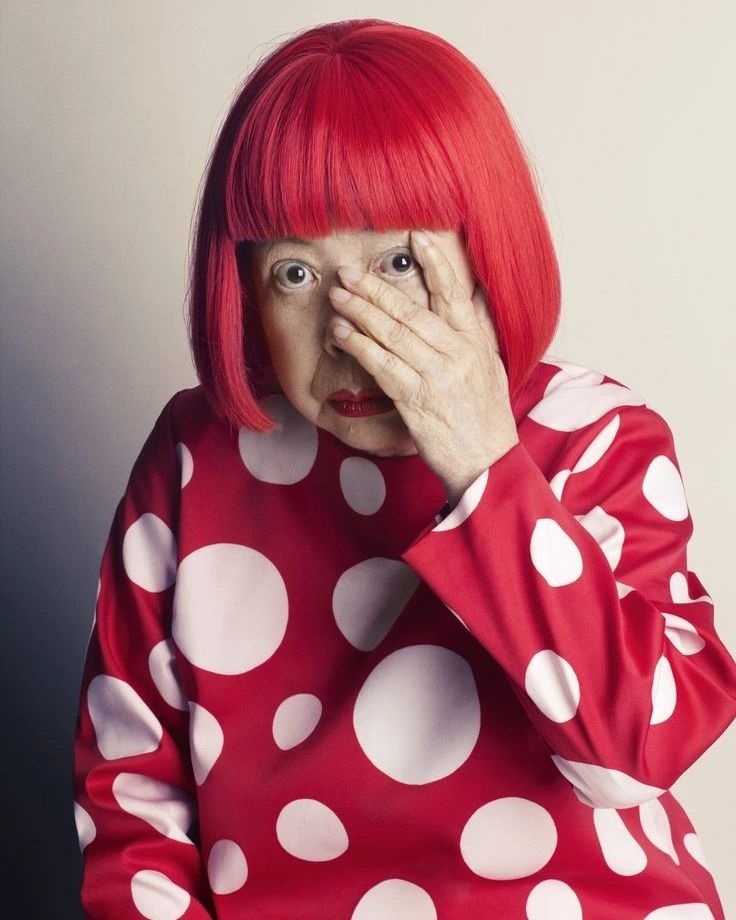 Her journey of searching for the truth of art keeps going on. Yayoi Kusama has fought her whole life fiercely to achieve this goal as a human. "Even after I finish my life, I'd like to keep telling posterity about my way of art. I want younger people, or everyone, to talk about my enthusiasm reaching to space and also, my art as a token of my life even after my death. For that reason, I worked all this morning. I'd like to keep creating art until the day I die," the artist confided.
Source: Tate