'There's no limit to what women can do,' says Vietnamese artist Lê Giang
In Vietnam, new art studios, exhibition venues and experimental spaces have sprung up as quickly as the skyscrapers that now dominate the skyline of HCMC. As the economy grows, so too does an art scene driven by a band of empowered women artists and curators.
"Ho Chi Minh City is a woman's world," says curator Đỗ Tường Linh, who co-founded the Hanoi-based Six Space in 2015 with the artist Lê Giang. The city is home to many influential women: Quỳnh Phạm, who in 2003 established Quỳnh Gallery; the artist Sandrine Llouquet who runs Salon Saigon; Trần Thanh Hà who heads up MOT Space; Thanh (Nu) Mai and Xuân Hạ of the multidisciplinary Cháo Downton; Tia Thuỷ Nguyễn who in 2016 founded The Factory Contemporary Arts Centre where Zoe Butt is artistic director; and Arlette Quỳnh-Anh Trần, director of the Post Vidai collection.
In Hanoi too, women are busy carving out their own niche and making spaces for art. In addition to Six Space, women-led initiatives include Hanoi Doclab, created in 2009 by the celebrated filmmaker Nguyễn Trinh Thi to cultivate Vietnamese independent film and media artists; the Nhà Sàn Collective, which was co-founded in 2013 with the talented multimedia artist Nguyễn Phương Linh, while in 2018 puppet artist and storyteller Linh Valerie Phạm set up the Mắt Trần Ensemble.
How did we get here? Tường Linh cites an earlier group of inspirational women as role models: "In the 1990s there were not that many local women artists and curators. But still, many people important in the scene were women. Most of the artists were men but the support system was all women." These legendary women include: Natalia Kraevskaia who founded Salon Natasha in 1990; the renowned art historian Nora Taylor who first visited Hanoi in the early 1990s; and Suzanne Lecht who opened Art Vietnam in 1991 and exhibited women painters like Đinh Ý Nhi and Đinh Thị Thắm Poong, both of whom offered alternative images of women to Lê Thị Lựu's paintings of beautiful girls with long black hair, wearing a silk Ao Dai and holding a child.
After nearly 30 years of challenging the status quo, women are both supporting the art scene and making internationally-acclaimed work. Multimedia artist Tiffany Chung (b. 1969) is particularly well known, with her delicate work on aspects of migration held by institutions like SFMOMA, the Louisiana Museum of Modern Art and M+. She is regular fixture at international art fairs, along with other Vietnamese diaspora artists, Thu Vân Trần (b. 1979), who, with Rüdiger Schöttle Gallery, exhibited Penetrable, 2019, an installation made with residues of rubber, at Art Basel Unlimited, and Oanh Phi Phi (b. 1979), whose beguiling lacquer works were showcased by Fost Gallery at Art Basel Hong Kong in March.
HCMC-based Thảo Nguyên Phan (b. 1987) is having a particularly strong impact. Following her 2016–2017 participation in the Rolex Mentor and Protégé Arts Initiative with Joan Jonas, Phan won two prestigious awards in 2018: the Han Nefkens Foundation and the APB Foundation prizes. Additionally, she has joined forces with artist Trương Công Tùng and curator Arlette Quỳnh-Anh Trần to form Art Labor Collective, which with cross-disciplinary practices develops art projects to benefit the community. Tường Linh reflects: "Our generation had a lot more mobility than the previous one. Plus, now we have the voices of many more women artists and they are new and different voices. It's interesting. Many women are making artwork that is very conceptual and actually very political."
Certainly, the brave performances by critically-esteemed artist Ly Hoàng Ly (b. 1975) regularly spark complex conversations about women's identity, empowerment and sexuality. She chooses personal themes that open up the often-veiled domestic sphere, like menstruation (in Blood and Flowers, 2007), housework and servitude (in Monument of Roundtrays, 2000) and the female body (in Water, 2000).
Likewise, Himiko Nguyên (b. 1976), based in HCMC, addresses topics that are still somewhat taboo. For her ongoing series Come Out II, 2016-present, she encases nude portraits of various people (Vietnamese, Japanese, people from Europe, those who are lesbian, gay, men, women) into peephole boxes. It's a truly human work that draws out our vulnerabilities and commonalities, and is a neat metaphor for the way mainstream Vietnamese culture can hide homosexuality. As Himiko says, "these artworks are important because they can start conversations about gender and sexuality in a place where some things aren't openly discussed."
Lê Hiền Minh (b. 1979) has been questioning traditional gender roles and female identity since 2004: "What does it mean to be female? What does it mean to be a 'modern woman' in Vietnamese society?" Her answers lie in sculptures that express the restrictiveness of interpreting 'femaleness' only in terms of reproductive biology. Hạt (Balls), 2004 revisited 2016, uses cascading plum-coloured balls of Dó paper to symbolise an overflowing male virility tonic. Accompanied by a Confucian phrase that translates to something like: "A woman's greatest duty is to produce a son," the burgeoning balls exert a persistent pressure of male power. Likewise, in Sâu (Worms), 2007 revisited 2017, hair-like jute ropes tied together with  'worms' encircle a Venus-type figure with a particularly nauseating closeness.
But is there a way out? Minh says, "The only way a woman can be liberated from these constraints is to reject the idea of femaleness as a biological function and instead understand it as a spiritual expression of universal energy." This is no better communicated than in Venus (2019) where a figure inspired by the Woman of Willendorf is handmade in Dó paper and encased in silver leaf, a shrine to women's strength, power and sensitivity. Similarly Divine Feminine (2019), the public sculpture currently exhibited in Helsinki, shows the world an ancient Vietnamese feminine icon that places women at the centre of the spiritual experience.
Not all women artists directly address feminist issues and some audiences confuse feminism with the feminine or label all women artists feminist, as explored by Joan Kee in her 2007 article What Is Feminist About Contemporary Asian Women's Art? For many, it's a delicate balance between recognising ones' position as a women artist and not being labelled. Nonetheless many are eloquent about their role as women artists. "I am not exactly a feminist artist, but still, there are many young women in Vietnam who are empowered now. We are not constrained by our bodies," says the Hanoi-based installation artist Lê Giang (b. 1988), who was in the 2018 Forbes Vietnam "30 Under 30" list of rising stars.
Lê Giang's most prominent artwork to date, Vestige of a Land (Phản Niệm), was exhibited by Vin Gallery (which was, incidentally, founded by another woman trailblazer, Shyevin S'ng) at Art Central Hong Kong in March 2019. Vestige of a Land replicates in plaster parts of a đình (a Vietnamese communal house), and to make the work Lê Giang adopted building techniques used by craftsmen nearly 300 hundred years ago. The delicacy of the carved plaster belies its unwieldy columns, "there's no limitation to what women can do. This is why I like to make big sculptures," she says, "to prove it."
Similarly, the puppetry artist and storyteller Linh Valerie Phạm (b.1993) is hesitant to describe her artwork as feminist. For Pham, life as a woman artist is a process of self-negotiation. "Being a woman is so much a part of me as a person and as an artist," says the artist. While she does explore themes of femininity and female identity in her performances, she is conscious that her perspective on the world inevitably embodies a female gaze. "I like to think about how I can live with the 'idea of woman' and the baggage that comes with it." Earlier this year, her Mắt Trần Ensemble was sponsored by FRIDA, the young feminist fund, to develop a project about gender equality. The main character in the performance is a young girl who has hopes and dreams for her future that go beyond the domestic space. Suggestive rather than didactic, this smart and thought-provoking piece invites the audience to share in her dreams.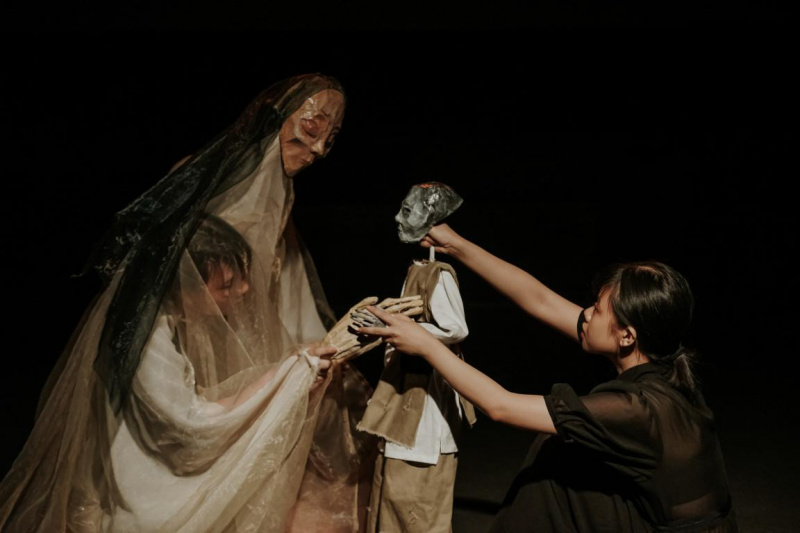 It is striking by how active the women artists in Vietnam are. In addition to pursuing successful individual artistic careers, they tirelessly form collectives, organise educational activities and run art projects that benefit communities. It brings to mind the four virtues, tứ đức, a Confucian ideology that outlined the values Vietnamese woman were expected to acquire: công (diligent work), dung (tasteful appearance), ngôn (proper speech), hạnh (good morals). Having pushed past boundaries, today's empowered women artists and curators are out and about, pursuing their dreams and focused on the future.
Source Cobo Social