SYNOPSIS
THE ECHO
This is the first time that 31 works including silk and oil paintings by artist Hoang Hoanh are officially exhibited from May 30, 2023 to June 30, 2023 at Vy Gallery.
The exhibition is entitled "The Echo". It can be an "Echo" from the past, from old memories reverberated. Including joy, sadness, happiness, or loneliness… It can also be an echo from the present soul that wants to transfer something to the anticipating future…
31 works (including one series of four silk paintings) are collected from four collections. In which, the owner of the work "Uprising" may be one of the collectors who currently keep the most paintings by artist Hoang Hoanh.
Ms. Tran Thi Tuong Vy, owner of Vy Gallery shared, "I really cherish artist Hoang Hoanh because he is a very likable painter, very gentle and has an endless passion for composing paintings."
Artist Nguyen Hoang Hoanh was born in 1937, turning 86 years old in 2023, but he is still persistent and diligent in painting. Recently, he is meticulously and thoroughly completing the detailed large-format oil paintings with bright colors and lots of characters every day.
There is an opinion that the paintings of artist Hoang Hoanh are easy to understand, so there is not much to see, to enjoy, to think about. However, a beautiful painting includes various elements, in which beautiful shaping and beautiful colors are always the top priority of the visual. He has always created delicate lines for characters from men to women of all ages with brilliant colors.
The subject in his paintings is the homeland, the country, and the people with bold Southern beauty. Each painting is a message about life. Just looking at the naming of the paintings, we can see the author's deep thoughts like "Uprising"; "Death before the time of release"; "Expectation"; "A game of chess with three generations"…
"…Looking closely at Hoang Hoanh's paintings, you can truly discover profound philosophical thoughts such as strong love for the motherland, humanity, and profound philosophy that cannot be penetrated by just a glimpse. Because the works in the style of realism are simple, easy to perceive visually, so that the audiences can briefly go through without directly looking deeply into its own soul… ".
Sincerely introduce the exhibition "The Echo" to art lovers.
Looking forward to enjoying the paintings at Vy Galley, 20 Nguyen Van Thu, Da Kao, District 1, Ho Chi Minh City.
Originally written by Viet Art View
---
Location: Vy Gallery – 20 Nguyen Van Thu, Da Kao, District 1, HCMC
Time: from 30/5/2023 to 30/6/2023
Operating hours: 10.00am to 8.00pm
Freely open.
---
Note:
Motorbike parking: 46 Nguyen Van Thu, Da Kao Ward, District 1
Car parking: 15 Mai Thi Luu, Da Kao Ward, District 1
---
Catalogue: Here
Event: Here
Artist
Details
30/05/2023 - 30/06/2023
Exhibitions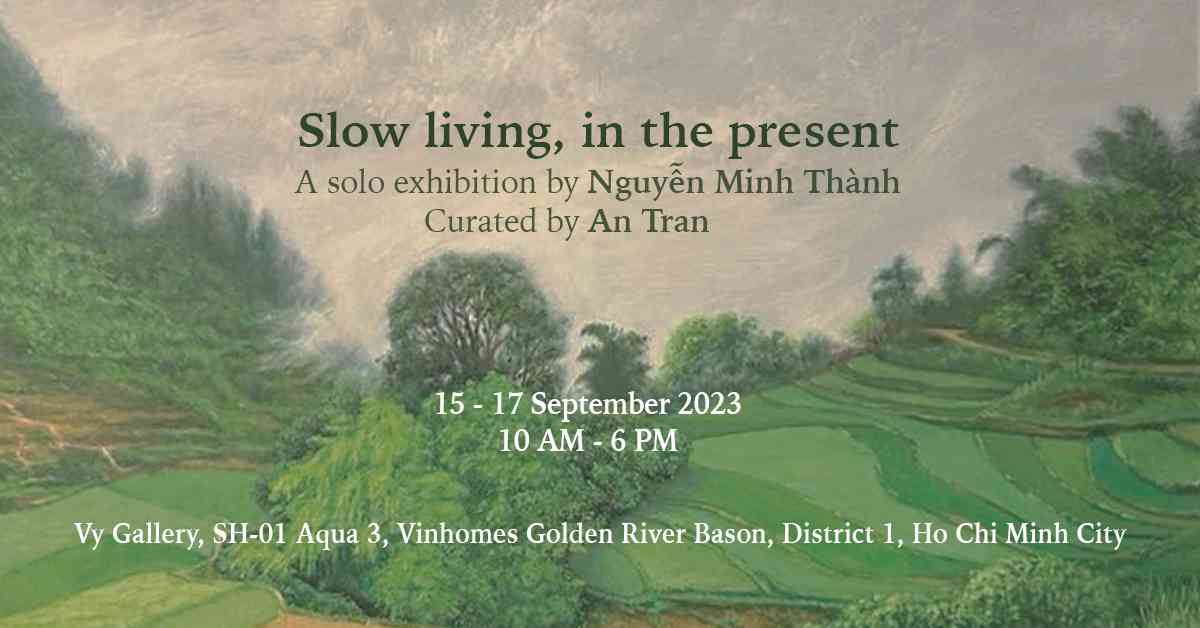 Triển lãm mỹ thuật "Sống chậm, trong hiện tại"
20230915 - 20230917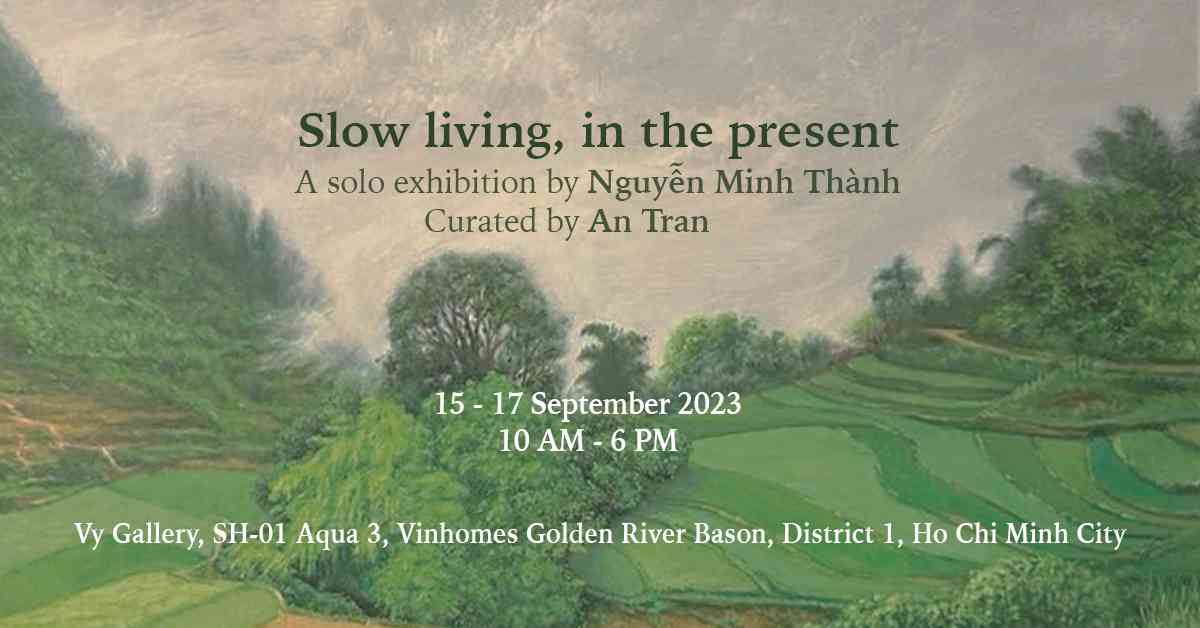 ART EXHIBITION | "SLOW LIVING, LIVE IN PRESENT"
20230915 - 20230917
Triển lãm mỹ thuật "Tiếng vọng"
20230530 - 20230630